A new release of Scarlett, the service that helps you manage your activities and their reports!
Considering the hard times we are living in, it may result difficult to keep a continuous clear vision of what's ahead, both in life and business. Scarlett aims to support teams in their daily activities so that they can focus on their next steps and their growth. Many of Scarlett's features are, in fact, built to ease and fasten your most tedious tasks, to provide better outcomes with smaller efforts – to your and your team's benefit. Today, we add another piece in your productivity's puzzle, to help you manage, beyond your daily operations, what lies ahead in your next future.
Since the previous release, you can take advantage of a bewitching calendar-view, to easily understand the distribution of your workload for the next weeks. On top of that, we built another key feature: you can now link external calendars,
from top calendar services like Google Calendar and Microsoft Outlook,
letting all of your appointments flow into Scarlett and become part of your scheduling routines: how amazing is that?
To link a calendar in a certain team, you can open your profile page from the menu (tap your name or your avatar) and access the new section "External calendar". From there, it's a piece of cake to complete the connection: sign-into your favourite service with the account containing the calendar you wish to use, then select it from the list that appears. Smooth!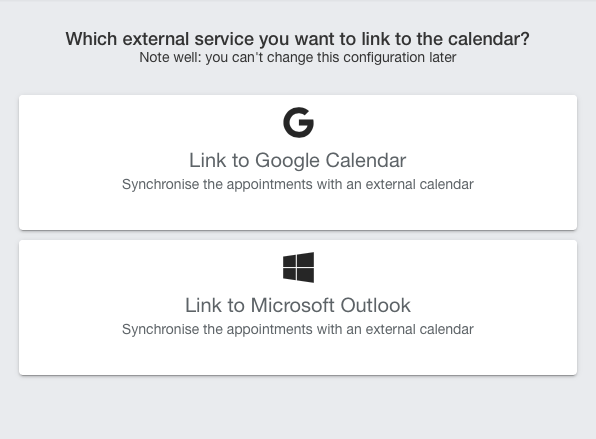 You can go back to the dashboard and see your appointments mixing with the activities you already planned: nothing will be out of your sight anymore! Remember: you can always switch from the list-view to the calendar-view by tapping the namesake buttons. From now on, when you select an appointment coming from your favourite external calendar, you can decide if you want to schedule an activity or if you prefer to start a new report right away. In both cases, Scarlett will analyse the information from the appointment, mapping all the data into your new activity or report. And it goes beyond that: it will suggest you the customers that are more likely to be your targets, based on title, description and location of your appointment.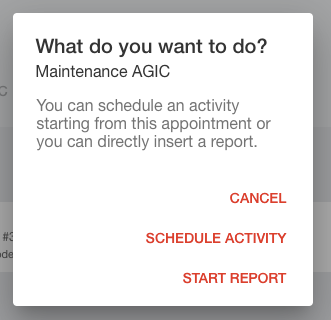 Of course, you can also go the other way around. After you connected a calendar, you can schedule a new activity and let Scarlett create a fresh linked appointment for you: the latter will appear in your external calendar in no time.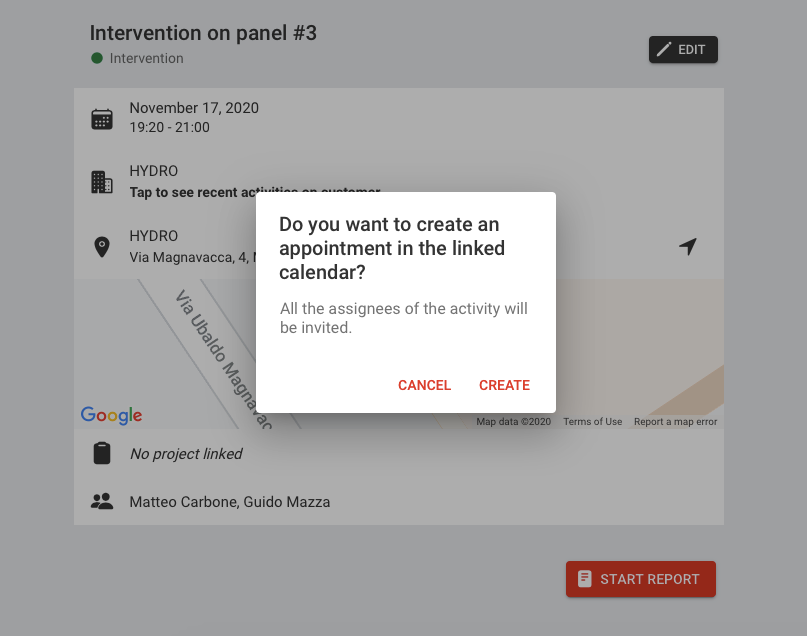 Once you linked an appointment with an activity (if the calendar you linked owns the appointment), each change to the activity will be synchronised with the appointment automatically. Similarly, if anyone makes a change into the appointment, you will be notified in Scarlett, so that you're free to take further actions on it.
The more team members link their own calendars, the more the system will be complete and precise: the users with the right permissions will be able to use this new piece of data to do more reliable planning for the team. Be aware: when you link an external calendar, any team member with permission to see your activities will be able to see your appointments in Scarlett; use a work calendar to be sure to keep your privacy. 🤚
---
While we are sure you're already trying linking your calendars, we have something else we want to show you! We completely renewed the panel that opens when you want to take an action on an entity in Scarlett; if you open it from a mobile device, you won't notice changes, whereas if you open it on a larger screen, you will now enjoy a richer and clearer action sheet.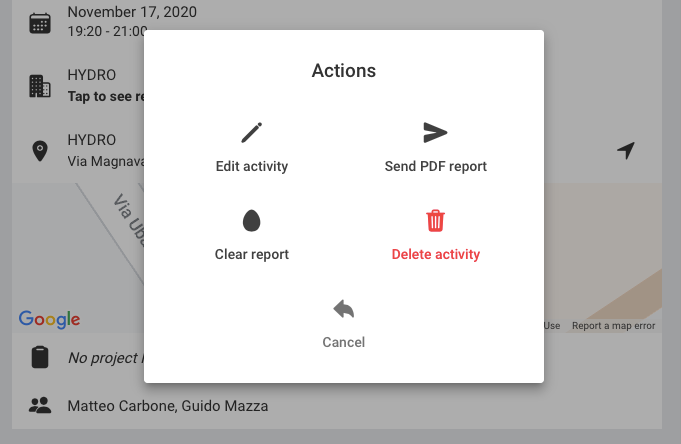 Finally, some other improvements included in this new version:
You can clone a model, to copy its settings into a new one. 👫
Unassigned activities for which you start a report will be automatically assigned to you. 🎯
Minor bug-fixes and small improvements. 🌼
Enjoy planning your work! If you have any feedback or ideas, we are glad to hear them! 🙌